FEATURED PRODUCTS
FEATURES
1. Door Panel: Thickness of steel 0.326mm/0.3mm, thickness of panel 40mm
2. Lift ways: Standard lift, vertical lift, high lift, roof pitch lift or low headroom lift
3. Panel, tracks, hardware, motor and control systems make up of the whole running system.
4. The whole doors has good features in keep warm and seals tight because of sandwich steel panels with foamed-in- place CFC-free polyurethane core and surrounding seals U form bottom seals which keeping out the freeze, humidity and water.
5. Each section panel's joint is adopt "Finger-protection"(Pinch-resistant) safety Design in order to avoid any finger injury when door open and close
6. Size and Color can be customized according to customer's requirements. Full range of Colors such as Green, Brown, Cream, Red, Grey, Blue, Black, Wood Golden Oak, Mahogany and Cherry colors, etc.
7. The garage door can be opened/closed by Emergency lock in case of power fault/off
8. All hardware is made of galvanized steel material in order to prevent rust.
9. Complete set hardware as standard specification which include around (left, top, right, bottom) weather-proof seal, and also even screws package. No need to add any extra accessories when installation.
10. Garage Door Motor/Opener are Rolling Code with 433.92 MHz. Specific function: When door panelbottom reach to the barrier when opening/closing, the door opener will let the panels "Rebound" automatically, it can increase safety issues.
11. Standard Special thicker carton packing for exporting in order to guarantee safety loading and unloading process in Delivery.
garage door hinge System:
1. Connecting coupling
2. Shaft
3. Drums
4. U-type end support bracket
5. Top profile
6. Guides for door leaf
7. Adjustable bracket with rollers
8. Vertical angle
9. Torsion and torsion springs
10. Spring break protection device
11. Electric operator
12. Ceiling mounting system for horizontal guides
13. Special stops
14. Operator guide rack
15. Hinges
16. Door leaf made of sandwich panels
17. Lock
18. Side cup
19. Handle
20. Bottom bracket with cable break protection device
21. Bottom profile
22. All-purpose inner support bracket
23. C-profile
24. Top weather seal
25. Bottom weather seal
Finger Protection garage door hinge panel and design:
Hardware for garage door hinge :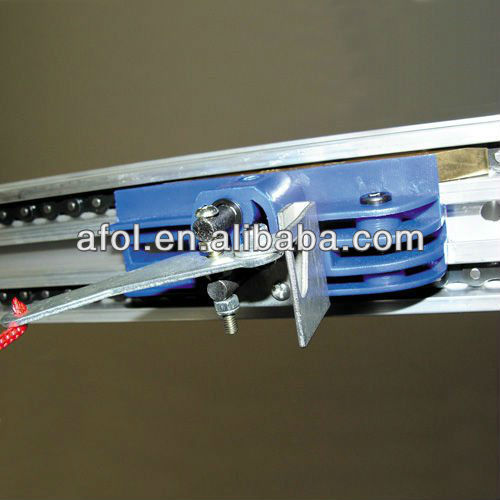 Technical Specification of garage door hinge :
Control panel and Transmitter of garage door hinge :
Recommended Tools for garage door hinge Installation:
Installing garage door hinge Operator and Rail:
garage door hinge Packing:
Thank you for your attention to our garage door,garage door part ( American door garage ), please feel free to contact with us for further discussions:
Tel: 86-571-8825-3610/8825-3996/8867-2272
Fax: 86-571-8825-3612/8867-2272
Skype: cherry- afol